Anatomy of a Killer Facebook Ad
Not only do we talk the talk, but we walk the walk. Learn how we helped a lawn care company generate twenty-five new customers within one week on Facebook.
When we first start working with a client, we get to know their business as if it's our own. Once we understand our clients' business, we're able to apply our digital marketing expertise to create effective campaigns that produce results.
So, what does it take to create an effective Facebook ad that generates leads
1. A great offer
The most important element to any advertisement is the quality of the offer itself. Luckily, in this case, the offer was fantastic. Only $129 for a spring cleanup is a great deal in any area, and the fact that the deal requires customers to sign up for a year's worth of mowing makes it a great deal for the business too.
2. An eye-catching headline
Keep in mind that you have only a couple seconds to truly grab your reader's attention… and this is especially true on Facebook. Assume your reader is not going to read all of your text… so make sure you're quick with the offer and that you grab the reader's attention.
3. Engaging copy
Be personable and natural in your copy, use proper punctuation, and have some fun with it!
4. A clear call to action (CTA)
It needs to be easy for the reader to understand what they should do next, and how they should do it.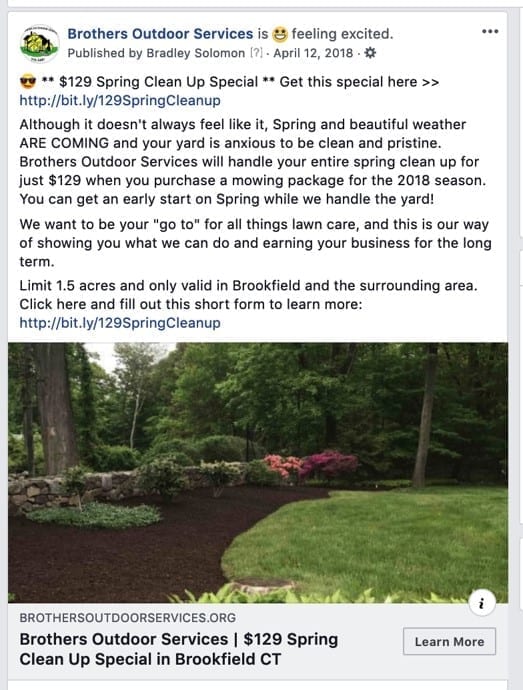 5. A targeted landing page
Once a Facebook user sees your ad on Facebook and clicks on it to learn more, they should be taken directly to a page on your website that further explains the offer they just saw. You  never want to send someone who clicked on an offer to your home page – they'll just get confused and leave.
You must make it easy for people to take advantage of your offer by placing the phone number in a prominent location, and providing a short conversion form (no more than four fields).
Grab our free guide to learn the top ways to grow your business online this year