display ads and retargeting
Reach your future customers as they browse the internet
And bring website traffic back for another look
Get your questions answered.
Request a callback from one of our experts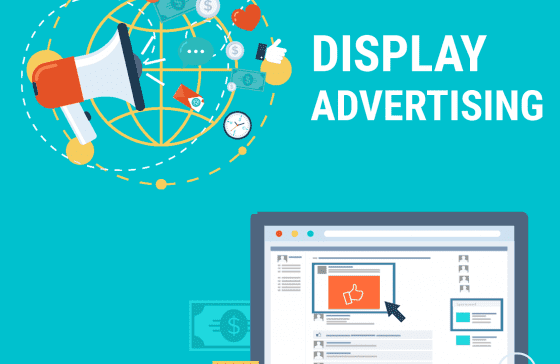 Display advertising is quickly becoming one of the most effective ways to brand your business and get in front of a massive number of people in a very cost-effective way.
Display ads (also known as "banner ads") are ads that show up on websites you visit every day, and they're a marketer's dream. The reasons display ads have become so popular are that they allow you to reach a wide number of people at a relatively low cost, and allow you target people based on a multitude of factors.
Demographics
Say you're a children's dance studio targeting young parents. Display ads allow you to show up frequently in front of this audience.
Prior keyword searches
If you're a real estate agent and are interested in branding yourself for people who have been searching for houses, you can run a display ad to people in your city whose search history includes words like, "houses for sale" and "home values in my area."
Interest targeting
Let's say your business is a gym or fitness facility, and you want to offer a free first month to anybody who signs up for a membership. You could promote this offer with a display ad, and show it only to people who are interested in health, fitness and active lifestyles.
Who should use display ads?
Any business looking to gain more visibility quickly should use some of its ad budget toward display advertising.
Click Here
Why your business should choose SC Digital to manage display ads
We know what we're doing
As expert digital marketers, we have a deep understanding of the different tools available to your business and which are the best for your particular goals. We'll be able to customize a display ad strategy that will not only bring branding and visibility to your business, but also tangible conversions and results.
We'll involve you in the process to whatever degree you prefer
This process requires a certain amount of involvement from you, the business owner, because we have to make sure we're investing your money to meet goals you care about achieving. You'll find our team will take a consultative approach to your marketing as opposed to a "one-size-fits-all" program.
Transparent results
You can receive reporting at whatever interval you'd like. If you want instant feedback on the success of your campaigns, then daily or weekly reporting might be the best for you. Or, if you'd prefer to be a bit more "hands off" and let things run their course (this is typically the best plan), then monthly reporting and review is probably the right program.