Digital Marketing Strategy
Google® Ads, Display Ads & Retargeting
Turn IDEAS INTO ACTION
Feel Free to Contact Us Here
Fill out the form below. One of our representatives will get in touch with you soon.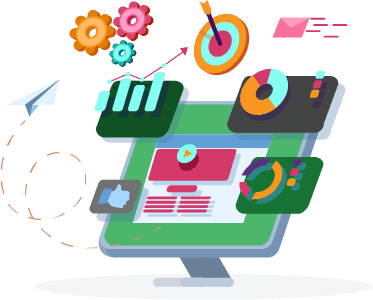 For most businesses, it's critical to be present when a potential client has the highest level of intent. If you're not present, and your competitors are, then you might lose a customer for life.
How much is each click worth to me?
How often does a click convert to a sale?
How much traffic will I sacrifice if I'm not in paid results?
If I don't purchase paid traffic, will the client click on my organic link anyway?
Are my competitors conquesting my customers by "bidding" on my business' name?
How often do I want to appear in search results?
Who will handle all this for me?
Wondering whether you need to be 'paying' for every click?
Having a paid search campaign is not a choice for most companies. Many consumers will click one of the top three results in a google search, which are typically paid results. You likely want to be the business they click, paid or not.
Unless you're a trained professional, don't go it alone.  
Are You Ready To Work With Us
Feel Free to Contact Us Here
Fill out the form below. One of our representatives will get in touch with you soon.
There are plenty more questions to be considered.  The best news for you is that we are experts in this area, so you will not have to worry about whether or not your account is being managed effectively.  Give us a call for a free analysis, and we will tell you how much traffic is available to you and help you determine whether a paid strategy is the right approach.
We will manage your campaign with some key factors in mind:
What customers are most valuable to you?
In some businesses, there are certain types of customers who are simply too valuable to miss.  For instance, if you're a towing company and someone in your city searches, "fast tow company near me," you must show first if you hope to get the click.   That client is likely stranded on the side of the road and will click one of the first relevant results they see.
How much should you pay for each click?
This goes back to determining the customer's value and intent.  Higher intent clicks tend to be more expensive, but there's good reason!
When do you want the most traffic?
The beautiful thing about paid search is that you can turn it on and off as necessary.  For instance, say you run a laser tag facility and your local weather man has just informed the public that there is some unexpected rain coming this afternoon.  A good strategy would be to crank up that paid advertising, so you can capture "impulse clicks" from people who are looking something to do today.
What do you want your ads to say?
Besides targeting the right customers, your ad copy is the most important factor to your paid search success.  Strong, compelling ad copy will increase your clicks, lower the cost per click, improve your position, and increase the frequency with which your ad is displayed.  Needless to say, the ad copy has to be perfect.
When you work with SC Digital on your paid search strategy, we will take a long term, consultative approach to managing your traffic and budget.