SUCCESS STORIES
Check out some of the amazing success stories our clients have starred in (with a little help from us).
Building contractor catapults from invisible in Google Maps to dominant in just a few months into implementation of the           SC Digital Local SEO strategy.
Here's a snapshot of the client's Google Map rankings prior at the beginning of our work together…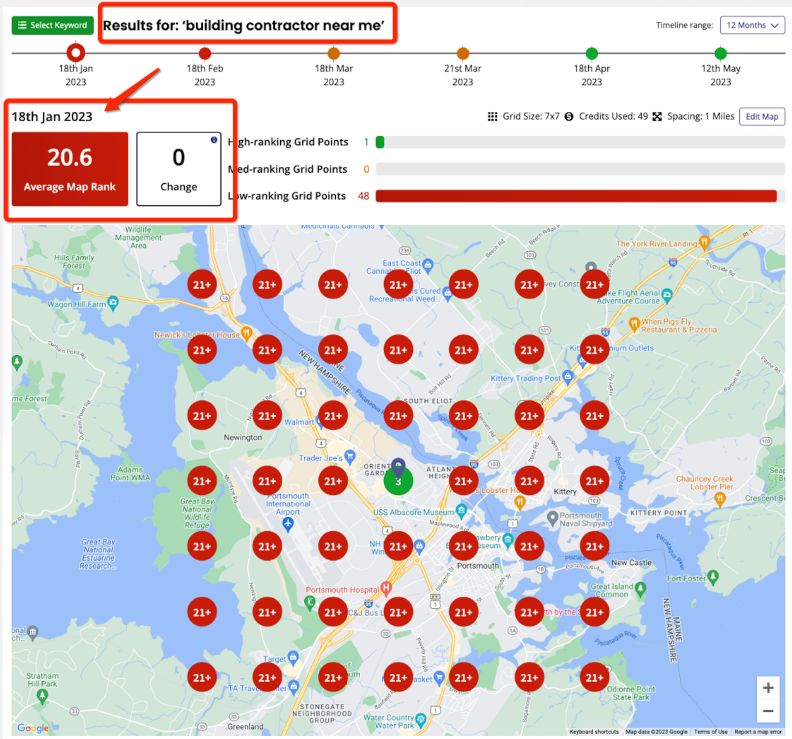 and here is a snapshot of the "After…" just a few short months later!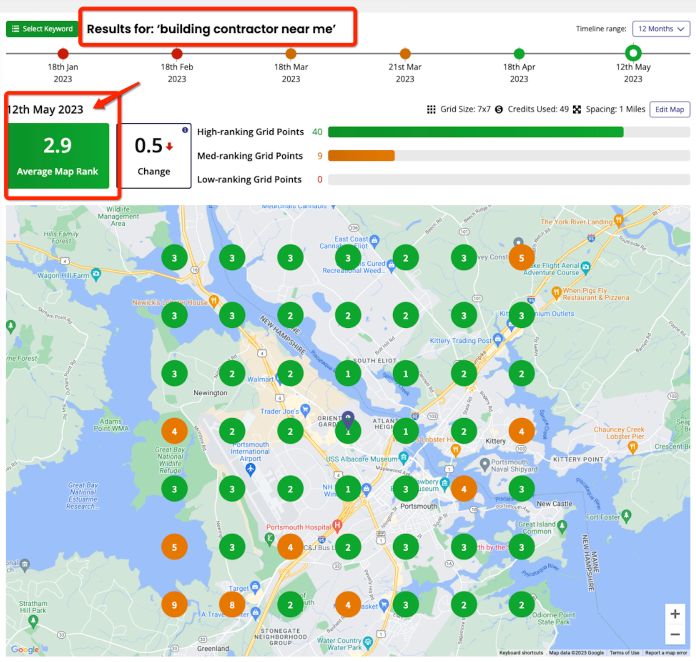 Historic Rochester Opera House generates buzz for upcoming events using social media video
We recently had the pleasure of producing an engaging promo video for Rochester Opera House's new retail outlet. We're thrilled to see the incredible engagement this video has generated on social media platforms. From the moment it was shared, viewers were captivated by the glimpse into Stage Door Tickets and More, resulting in a wave of positive reactions, comments, and shares.
Videos like these have proven to be highly effective in capturing attention and generating interest. They provide a dynamic and immersive experience, allowing viewers to visualize themselves in the space and connect with the brand on a deeper level. By showcasing the diverse range of merchandise, the welcoming atmosphere, and the collaboration with local artisans, this video resonates with audiences who appreciate creativity, culture, and community.
The combination of visually appealing shots, concise storytelling, and a touch of excitement has contributed to the video's success in driving engagement. It has sparked conversations, piqued curiosity, and encouraged people to tag friends and family who might be interested in visiting the retail outlet.
Roofing contractor goes from "out of sight, out of mind" to 1st page of Google for high volume keywords as a result of roofing SEO strategy
This roofing contractor wanted improved Google rankings and wanted to show up in more searches for a variety of possible keywords. The chart on the left shows a list of high-value keywords as well as the improvement in search ranking during the given time period. For example, "nh roofer" improved by 21 positions, going from position 24 (aka the 3rd page of Google) to position 3 (the first page of Google) in just a few months.  The chart on the right shows the overall improvement in visibility during the given time period.  The main point: this roofing company now dominates Google and gets a lot more traffic now that we're handling their SEO.

Flooring company reduces cost per lead by 70% and increases conversion rate by 900% by having SC Digital take over their Google PPC Ads
This flooring contractor needed a new agency to help them with their Google Ads, because they didn't feel they were getting enough value from their ad spend.  When we took over their Google Ads, their Cost per Lead was averaging over $200 per lead.  Within just a few short months of us managing their Google Ads, their cost per lead fell to less than $50 and their conversion rate went from under 1% to over 9%!

Roofing company enjoys wildly successful springtime campaign with catchy marketing hook and engaging social media video: generates over 100 high quality roofing leads in just over a month.
Our client Southers Construction was looking to devise an exciting promotion aimed at generating buzz during the spring season. As part of this campaign, we introduced a remarkable opportunity for four fortunate customers to receive complimentary repairs.
The effectiveness of this initiative stems from its time-sensitive nature, aligning perfectly with the season and the prevalent demand for repairs. Moreover, it incorporates an element of scarcity, fostering a sense of urgency among potential participants. The charismatic personality portrayed in the video adds an engaging touch, while the offer itself is easily accessible. Interested individuals simply need to message the designated page or complete a straightforward form.
This promotion proved to be immensely successful, primarily attributed to the captivating video showcased here.