One Trick That can 3X Your Yelp Leads in Less than 1 Month (and it's not what you think)
When it comes to Yelp, many businesses often experience success, even if they don't subscribe to a monthly advertising program. If you want to be successful on Yelp, we have a few tips to help you optimize your listing for results.
Many business owners think of Yelp as a "4 Letter Word" never to be muttered in their presence. However, many of our clients see tremendous success with Yelp, even if they don't subscribe to a monthly advertising plan. Here's the most significant factor that determines your success on Yelp (along with a couple others you should be using).

The key to a strong Yelp listing is the "Response Time" metric.
There are many important elements to a great Yelp listing and many things you can do to make yours stand out.
These include:
Maximizing the # of reviews
Keeping your pictures updated and attractive
Creating graphics to showcase your reviews
And much more.
However, in our experience, the key to truly maximizing your profile's effectiveness and maximizing leads is to:
Enable messaging
Respond quickly to your inquiries.
Since most people want immediate answers to their questions, a 10 minute response time can skyrocket your lead volume.
When people anticipate a quick response, they're more likely to engage in conversation!
Nobody likes to sit around and wait for a business to get back to them. It's painful to engage with a business that gives off the impression that it can't be bothered to talk to customers. Therefore, a "green" response time on Yelp is super-inviting to potential customers and can be the differentiator between your business and the 15 other similar businesses in your city.
"Wait… how do I enable messaging through Yelp? I wasn't even aware that was a thing!"
If that's what you're thinking, the answer is yes! It's actually very simple. All you need to do is access your business owner Yelp account via biz.yelp.com, click "Inbox" on the left side of the screen, then the "gear" icon in the top right corner. This will allow you to select an option to "Enable" Yelp messaging.
"How am I supposed to respond to my Yelp messages within 10 minutes? I'm hardly ever by a computer!"
Easy! Just download the Yelp Business app, sign in with your username and password, and voila! You can respond to messages directly from your phone. Or, you can put one of your team members in charge of responding to your messages. However you decide to handle it, a 10 minute response time can be the key differentiator between you and everyone else and can not be ignored.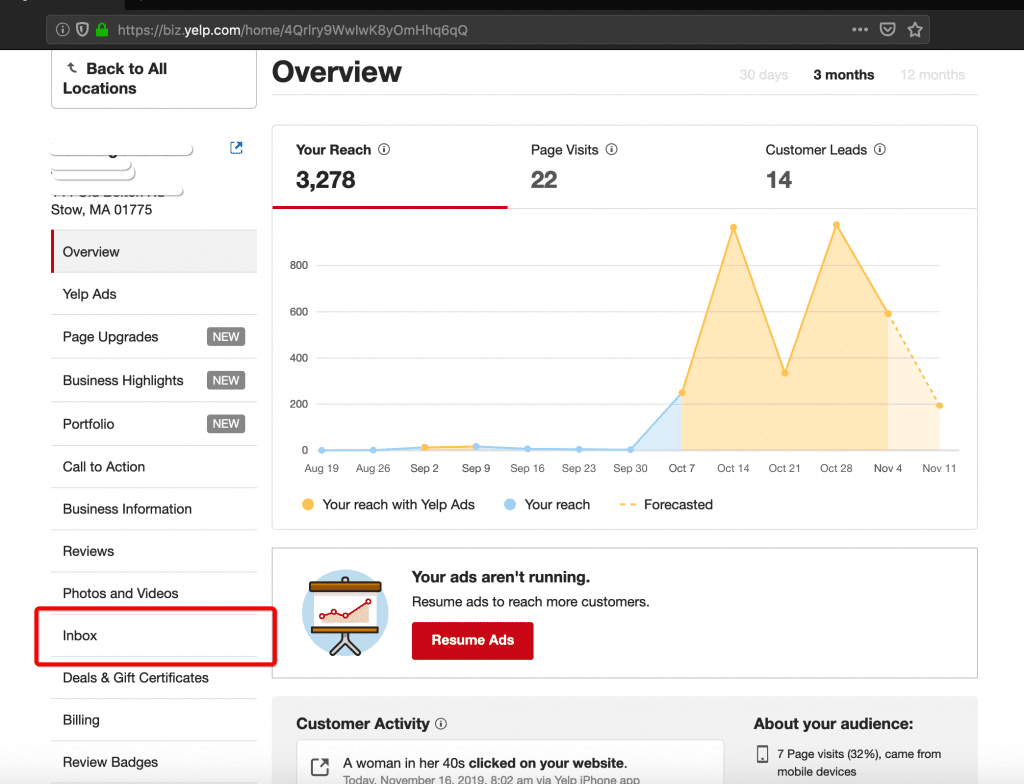 "What should I say to people in my Yelp message responses?"
Typically the best way to answer a Yelp message is to provide the information your potential customer is requesting but to also offer a phone conversation. This way, you can follow up with the customer and answer all their questions in a single conversation (instead of being tied to a phone messaging conversation).
However, do be aware that many people prefer to message with you because they're unable to talk on the phone. For instance, many of your potential customers likely contact you while they're at work or in other situations which do not allow for an immediate phone conversation.
"Now that I have Yelp messaging enabled and a process in place to respond to each message within 10 minutes, how can I get more people to message my business?"
There are a few little-known ways you can get more Yelp engagement.
Add video to your profile: This is an element to an "Enhanced Profile" which, at the time of this writing, costs roughly $90. If you're interested in setting this up, we can handle it for you and you can go ahead and contact us here. Videos are often more engaging than simple photos and, again, serve to differentiate your business from competitors.
Create graphics which showcase your best reviews: At the time of this writing, showcasing your reviews with custom graphics placed in the photos is not a violation of Yelp's policy. That might change, but as of right now, it remains a great way to put your best reviews "front and center."
And of course, always respond to your reviews…. good or bad!
Grab our free guide to learn the top ways to grow your business online this year