Does Anybody Actually Click on Paid Ads?
Is it beneficial to implement a paid search strategy on Google? You betcha. 
One of the most common questions we hear from clients (and potential clients) is whether or not it's worth having a paid Google search strategy. There seems to be a perception that paid ads are rarely "clicked," so it doesn't make sense to run them. Let's unpack this.
First of all, it's important to understand that paid search ads are clicked with very high frequency. While organic and "map" clicks happen more often, people with high commercial intent tend to click paid ads more frequently than organic links. In fact, a study by Wordstream showed that paid Google search ads accounts for almost 65% of the click volume of people with high commercial intent.
Commercial intent means the searcher is "ready to buy" or highly likely to become a lead.
If you're not sure whether people click on paid search results, just Google's 2Q19 ad revenue which was roughly $32 billion.
Still concerned that nobody clicks paid ads? That's no reason not to have a paid search strategy.Here's why:
The beauty of paid Google search is that they are "pay per click." Therefore, if nobody clicks, you don't pay! No need to worry about whether people will scroll right past your ads (most will). As long as you achieve a CTR (click thru rate) of 5-8%, you're in good shape and will see positive results if your keywords are set up properly and your landing page converts well.
A few reasons you should be running paid search ads:
Another beautiful part of Google paid search is that you can run ads to show up only on specific keywords, meaning you can pick your traffic like never before. Furthermore, you can pick your exact location, desired audience income range, and much more. So, unlike with organic SEO, you can get hyper targeted and specific about the traffic you bring to your site.

For local service based businesses, Google paid ads are an absolute no brainer. For instance, let's say you're a local plumber and are trying to generate more phone calls from people who have an immediate need for your services. It pays to get to the top of the search engine via a paid ad strategy, because many people will not bother scrolling past the first few results of they need help right away.

Paid search advertisers can be perceived as more credible and successful. Take a local photographer for instance. A paid Google ad can communicate a level of professionalism and success which might be comforting to a potential customer. In a profession with relatively low perceived barrier to entry, a professional photographer can differentiate herself from the pack by employing a targeted google paid search strategy. The potential searcher might think, "Wow, this person must be serious about their business if they're willing to purchase paid Google ads as opposed to simply putting a website online and hoping they get clicks." Unfair? Maybe. Reality? Probably.

Businesses like hotels can use Google ads to defend their own kingdom against third party companies who are stealing their traffic and selling it back to them at a higher rate.

Hotel owner: "Wait, what? How does this happen?"
Third party booking engines like "booking.com" will bid on the name of your hotel or Inn in order to generate traffic to their own site. That way, if someone types the name of your hotel into Google, that person will likely end up on booking.com instead of your own site! If someone books your room through booking.com, they will charge you a commission of roughly 18%. If, instead, you had a Google paid ad targeting your own name, you'd have likely only paid a dollar or so to get that person to your website and would have paid nothing to Booking.com.
Defend your own backyard (I.e. your business name) with a Google paid search strategy. So you're spending a bunch of money on TV ads to drive traffic to your website right? Great! But what happens when people Google your company name because they saw your TV ad? Do they find your competitor's website in the top search position? If they do, then you're probably losing a sizable amount of traffic to this every month. You can easily get this traffic by having a brand name Google Ads strategy. In other words, by bidding for clicks on your own company name, you can prevent competitors from stealing your traffic. While this might seem like a strange concept, it should actually be considered a cost of doing business. More on that in our article, "Should I bid on my own name in Google?"
Grab our free guide to learn the top ways to grow your business online this year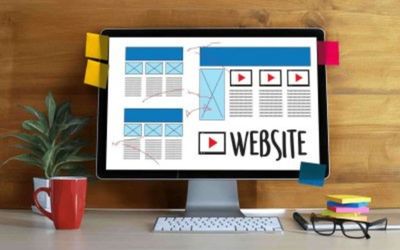 Are you looking to improve your website's conversion rates and turn visitors into customers? Understanding user behavior, effective communication, and strategic use of design elements are key. In this blog post, we explore some of the top strategies for maximizing your website's potential, including identifying your visitors' pain points, creating compelling offers, communicating your unique value proposition, building trust with social proof, and using videos effectively. Work with your web designer to put these tips into action and watch your conversion rates soar.
read more