6-Point Digital Marketing Checklist for Lawn Care and Landscaping Companies
Having a solid digital marketing strategy will not only help you stand out against the competition, but it will help you generate more quality leads – faster. 
Getting your word out on the internet is one of the most important things you can do for your lawn care or landscaping business. And it's not just about having a website and a few reviews on Yelp. To truly succeed in today's competitive marketplace, you've got to have all your bases covered. Here are the digital marketing tools we have found to be most important for all lawn care, landscaping, and hardscaping companies.
1. Optimize your Google My Business Page. 
Your Google My Business page is directly related to your Google Maps listing, which is one of the most valuable pieces of real estate you can own on the first page of Google. Your map listing will appear before the organic search results, and before the Home Advisors and Angie's Lists of the world. The trouble is, you must fully optimize your Google My Business listing regularly to get full value from it. Some things you should always do to optimize your Google My Business listing include:
Generate and upload new pictures all the time. Photos of your work are some of the most valuable assets you have, and they should be used on your My Business listing. Always keep these updated at least once per month. Not only should you consistently have new pictures, but you should also be using proper descriptions to name your photographs so that the Google search functions index those pictures as the relevant content for that which your desired customer is searching.
Optimze your service descriptions. For Google My Business, you'll want to optimize your services with descriptions, including the towns you serve and the price ranges. If you're hoping to show up in the "Map Pack" in your desired city and state, you'd better be sure your description accurately reflects that city and state(s) and that you clearly explain your in that description.
Make full use of Google "Posts." Google's algorithm LOVES when you use Google's tools in an intended manner. Therefore, you should be keeping up with Google's "Post" feature by consistently updating your content to tell the public about new deals and offers. Google "Posts" will show up when someone looks you up by name, and might even show up when you are viewed in organic search results.
Check your contact information. It goes without saying, but be sure your phone number and address are correct. These two items will give you the most bang for your buck because they tell the search engine where your business is located and provide your desired customer an easy way to find you. Plus, people can simply press the "call" button when they find you in the "Map Pack."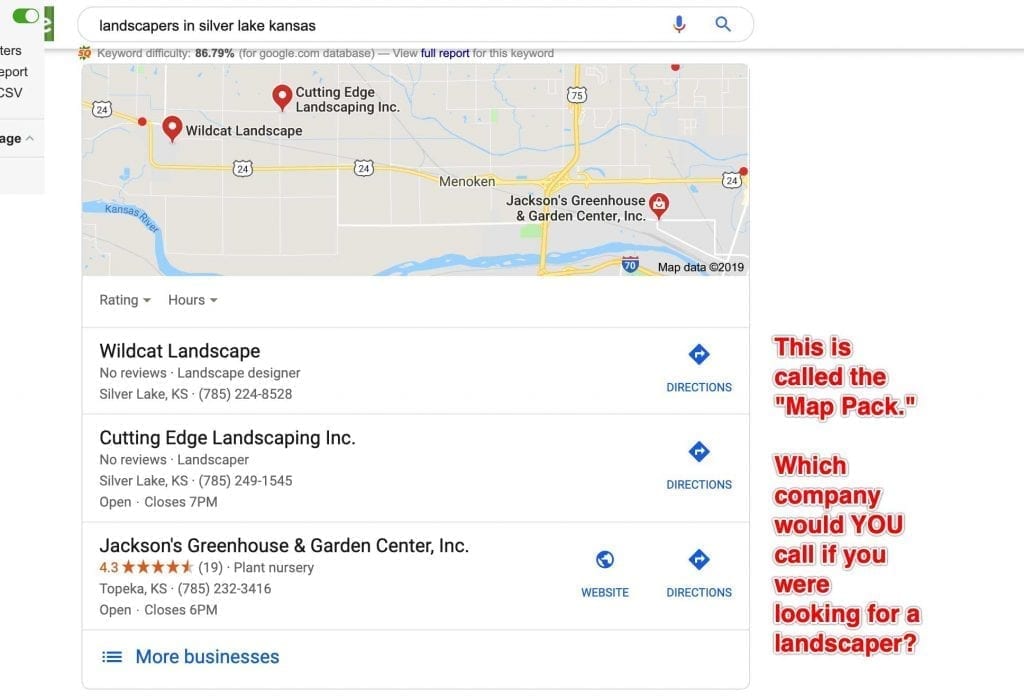 2. Invest in Google Ads (carefully).
When implemented correctly, Google Ads can be incredibly useful. The trouble is, they can also be very confusing. We recommend running your Google Ads in a very conservative manner to start, and then increase your budget as you go.
Pick your keywords carefully. If you offer lawn mowing services, then your campaigns, ad groups, keywords, and ad copy should be specific to "lawn mowing services." Don't simply plug "lawnmowing" into the Google Ads Express program and expect to get a good bang for your buck. Have a professional review your account or, even better, manage it on a proactive basis.
Install your conversion trackers. In order to evaluate your Google Ads budget effectiveness, be sure to install conversion trackers on your website so you can track how many leads and sales your campaigns are generating.
Use Call-Only ads. Google has a great feature called "Call Only" ads, which give people the ability to call your business directly from your ad every time they see it.
Use all available extension types. As part of your Google Ads, you can include "Ad Extensions." This means you can attach your location, your phone number, your catalog of services, and even links to specific pages on your website in your ads. Ad Extensions make your ad larger, which helps you "push down" your competition. So, if you're bidding for top position placement on the first page of Google, and you've got all your ad extensions enabled, then your ad will likely be so big that your competitor's ad won't be able to be seen unless the searcher scrolls past the "fold." This is a desirable strategy and can help you capture customers.
Pay attention to your negative keywords. These are the keywords you don't want your ad to show up for. For instance, if you're bidding on a keyword like "lawn mowing service," then you might also be showing up for search terms like "lawn mower repair service." In order to avoid this, you would add the word "repair" as a negative keyword. As another example, you might be bidding on the keyword "landscaping service." Because of this, your ad will be likely to trigger anytime these words are included in a search query, which can be problematic if your competitors' names include those words. If you don't want your ad to show up when someone looks up your competitor by name, be sure to ad competitor names as negative keywords.
3. Optimize your website for search and mobile.
If you're going to stay competitive, you must have a search optimized website – and it needs to be mobile-responsive. Like it or not, your website is a reflection of your business. It is your digital storefront. In just a matter of moments, you can make a lasting impression on your customer that can make the difference between you receiving a phone call or losing the business to a competitor.
Load time: One of the most important pieces of your website. Ever gone to a website that loads slowly? It's the worst. So, don't do that to your potential customers…because they won't stand for it. If your site takes too long to load, people will bounce off it before they even get a chance to check it out. And guess what? They'll go straight to your competitor's site. Check out your page speed here with Google's Page Speed tool.
Optimize your site for mobile users. In most cases, the majority of your traffic is probably from mobile users. That means your website experience must be just as good on a mobile-device or tablet as it would be on a desktop. The problem for most businesses is that their website is designed using a desktop – and doesn't work well on various screen sizes.
Make your contact info prominent. Customers should not have to go searching too far for your phone number or your website form. Get your contact info in front of them immediately. Assume they are looking to make a buying decision in the amount of time it takes to sit at a traffic light. If the light turns green and they still haven't found your contact info, then you've probably lost that customer forever. Don't let it happen.
Your site should quickly and succinctly communicate what you do. Don't make people guess….make it easy! If you offer lawnmowing, fertilization treatments, pruning and hardscapes, say so toward the top of the page so your target customer doesn't need to scroll very far.
Your site should be search-optimized (get on your SEO!). This is an ongoing commitment with many different facets and components which are too detailed to get into here. But just keep in mind, having a beautiful website does you very little good if nobody can find it. Like a billboard in the desert, your website is useless if it can't be found by those who need it.
Your site needs downloadable content. If you want to convert website visitors in to leads, you need to provide visitors with content that's useful enough to trade their contact information for.
Consider implementing live chat on your site. People love instant gratification, and since many people can't always talk on the phone, giving them the ability to chat with you through your website is a great second option. Consider using a company like HubSpot or Intercom.
4. Bolster your social media presence.
You need to have a strong Facebook and Instagram presence with consistently updated relevant content. Additionally, in order to grow your customer base quickly (notice we said customer base, not fan base), we recommend a starting social media advertising budget of $250-$500 per month to get the word out.
Don't let your content go unnoticed. Posting on social media is useless if nobody sees your posts. Most companies do a great job of posting content to their Facebook and Instagram accounts. Unfortunately, that content goes unnoticed because they have only 60-100 followers. With so few followers, there's zero chance that content will make any impact for your business whatsoever unless it is so good and so viral quality that it gets shared organically on its own. Unlikely. Therefore, you should be using the advertising platforms available. Be careful, though…as with most advertising sources, Facebook and Instagram ads are only effective if you know how to target, retarget, and put all the tools to work in synthesis with one another.
Develop a process for responding to comments, messages, and recommendations. If you're doing it right, people will "Like" and "Comment" on your posts. This is great, but it needs to be monitored. When someone Likes one of your posts, be sure to invite them to Like your page using the Pages app. And when they comment on a post looking for more information, be sure to send a message to them through messenger to collect contact information.
Use video and lead generation posts to your advantage. The simple act of posting your work on your Facebook and Instagram profiles is pretty easy, so, lots of companies do it. What most companies don't do is use all the other tools available on these platforms such as video and lead generation. Instead of pushing your paid traffic to your website, consider having them fill out a simple form inside Facebook. This is easier for them to do, doesn't require them to wait for your site to load, and reduces confusion.
5. Remarket to your website and Facebook visitors.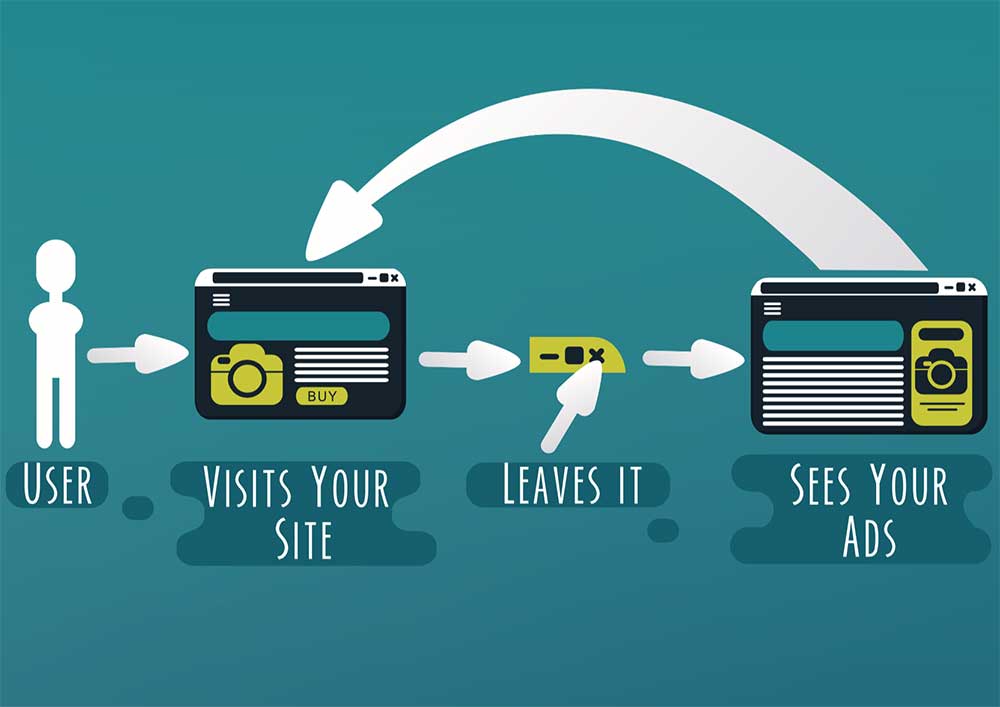 People who visited your website, Facebook, or Instagram profiles were at one point interested in learning more about your or potentially buying your services. Remind them of this, and give them a reason to come back by placing targeted ads in the platforms they are already using.
Use Google remarketing to reach people browsing the web. Ever been to a website and then later seen ads for that website on other pages you're browsing? This can be set up through the Google Ads platform and, with the help of a great graphic designer, you can be up and running with remarketing ads in no time. This requires you to place a Google remarketing "code" on your website which your website developer will do without a problem. Anytime we run a Google Ads campaign for a client, this is one of the first things to happen. Remarketing is as simple as uploading your digital graphics to the Google Ads platform, choosing your target audience, and clicking "Go." If you want some help with this, give us a shout!
Use Facebook remarketing to reach Facebook users who have visited your website. Facebook and Instagram remarketing are similar to Google remarketing, except the future ads your visitors will see are going to be found in Facebook (not the other websites they visit). Similar to the remarketing code referenced above, Facebook uses a "pixel" which is placed on your website and tracks visitors after they leave. If this is set up properly, your website visitors will continue to be served with your content for as long as you choose.
6. Explore Yelp! It's the unsung hero your business needs.
For finding high quality, low funnel leads for your business, having an optimized Yelp listing is an absolute no brainer. Although most business owners love to hate on Yelp and accuse the platform of playing "favorites" with its advertisers, we have never seen this in real practice. What we typically find of Yelp shoppers is that they are very close to making a buying decision and are simply narrowing down their choices. Those businesses who do a great job optimizing their Yelp profiles and responding to reviews will win on this platform.
Upload multiple photos to your Yelp profile. Your searchers will help you fill out your profile, but they shouldn't do it alone. Get your own images up there so people can get a true feel for you and your company.
Use your reviews in your images. Instead of relying on Yelp to show your reviews, be more creative than the next guy. Create graphics which depict your online reviews as well as your work, and upload them to Yelp as images. This will be visually appealing to people searching for your business, and will also give them a great feeling for how your business operates.
Use image descriptions to your advantage. Image descriptions act to tell Yelp what your page is about. So, if you're looking to perform sprinkler installations in Baltimore, Maryland, be sure to upload a few images of installations you've already done in the area and title the images as such.
Always respond to questions quickly and effectively. Businesses who respond quickly to questions and messages will earn a green "badge" of sorts on their Yelp profile. This helps generate more leads and activity, so be sure to pay attention to your response time.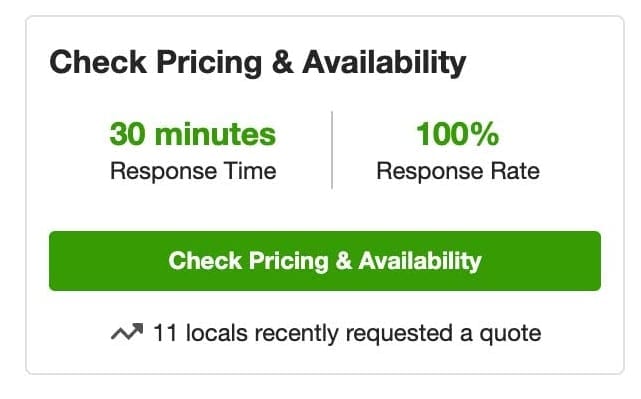 OK, now that you know six things you can do to help grow your lawn care and landscaping business online, the next step is charting a course to make all these things happen! Luckily, we are experts in everything you've read here, and a lot more.
Grab our free guide to learn the top ways to grow your business online this year