Facebook Ads For Restaurants: How to Maximize Your Visibility and Get More Customers Through The Doors
Looking for ways to attract more customers to your restaurant? Facebook Ads, when done well, can be a great way to bring in the crowds.
If you own a restaurant, you may have considered doing some Facebook advertising. Maybe you've even tried some, and had some good success. But the vast majority of Facebook advertisers are only using a small fraction of the capability available to them through the platform and restaurants are no different. In fact, in our experience, restaurant Facebook advertising seems to stop at snapping a quick picture of a juicy hamburger and "boosting" it. While that may be a start, let's take it to the next level. Let's DOMINATE the market by employing these techniques.
Define Your Target Audience
Most seasoned Facebook advertisers will tell you that all successful campaigns start with great targeting. Before you think about what your ad copy will say and what photo you'll use, you'll need to define who your audience IS! Luckily, Facebook makes it super easy to segment your audience based on location, interests, and even current affiliation with your business. Here are a few target audiences to get you started.
Your Current Customers
Create a custom audience of your current customers by uploading your email/phone number list. If you're not currently keeping a list with this info, here are a few simple strategies to build it:
Ask customers to subscribe to your email list when they visit your restaurant or your website.
Provide a jar near the entrance of your restaurant for customers to drop your business card to win a free meal.
Make sure to always let people know that, by giving their email address, they might receive promotions.
Website Visitors
Facebook allows you to "pixel" people when they hit your website so you can retarget them later. Furthermore, you can differentiate your audience members based on which page they visited. This is helpful because you might want to display a certain ad to people who visited your menu online, and another ad to the people who visited your "Function Room" page.
Current fans and their friends
This allows you to tap into the people in your community who already have an affinity for you. It also allows you to target their friends who might have similar interests.
People who have engaged with your ads already
This is another custom audience built around the people who have taken some type of desired action on your ads. For instance, if you publish a video, you can create a custom audience of people who watched more than 10 seconds of it. Perhaps these people get to see a second video, or maybe they see a carousel ad of your specials on a weekend. Advertising in this way allows you to pinpoint specific Facebook users, namely, those users who are most likely to become your customer.
Fans of similar pages and interests
If your restaurant serves Mexican food, target people who are interested in "Chipotle," "Boloco," and other Mexican restaurants. Likewise, if you're a seafood restaurant, you can target people who like other Seafood restaurants.
People in your target demographic
Take a good look at your current customers. Who are you already attracting? The 25-44 year old crowd with some expendable income? Parents with young children? The local "biker crowd?" Whoever your current clientele, you can mirror their characteristics in your Facebook targeting.
Here's a visual representation of what a video funnel could look like: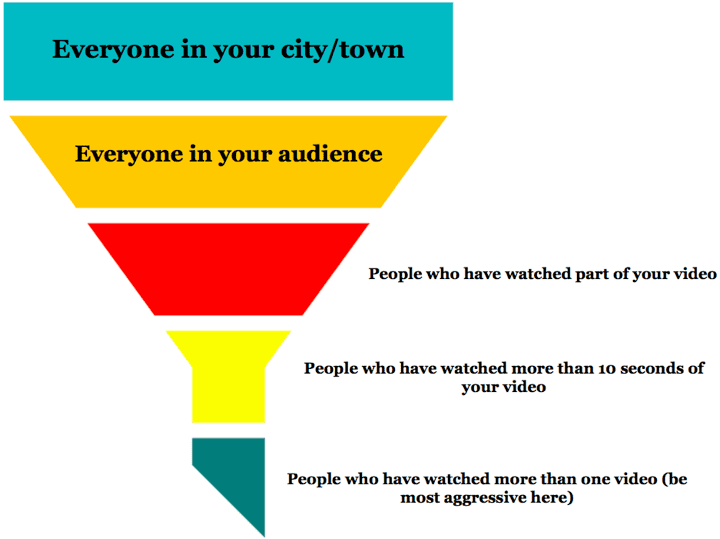 Define Your Target Content
So you've defined your target audiences. Now what? Here are some ad suggestions to get you off and running:
Show off your food
It may seem obvious as most restaurants are using Facebook to do just that. Still, there are many ways to flash your fare! Want to be candid? Or more formal? Take a look at these two very different Facebook posts (neither are ads, just posts).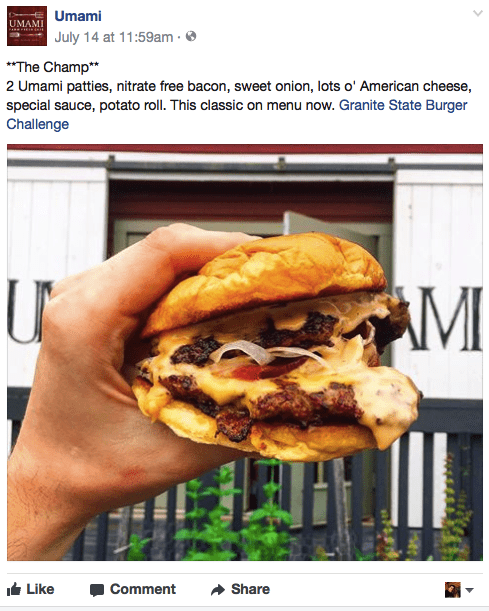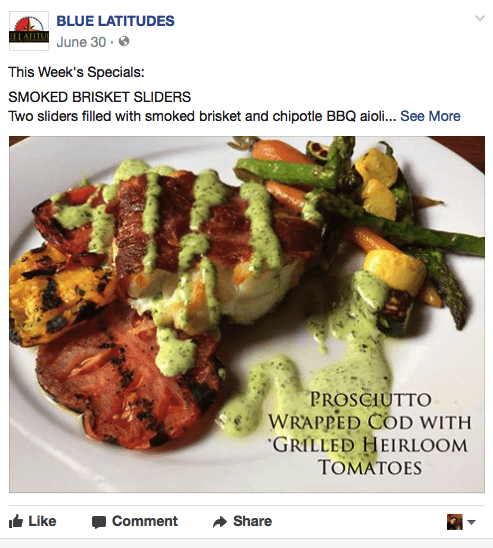 Notice how one is a candid photo of a beautiful burger that looks like it could have been snapped by a customer, and the other looks like it was photographed professionally with a caption? Both are great posts (and look delicious); both speak volumes to the atmosphere and type of clientele each restaurant is looking to target.
Show off your staff
As you know, your employees make all the difference when it comes to the success of your restaurant. A great server is more valuable than your most popular menu item. Use Facebook to show your audience the "human" side of your restaurant by featuring your fabulous staff. A great way to do this is through video:
Some ideas:
Publish videos in which your servers talk about your specials for the day
Prepare a few of your signature dishes and publish a video that features a server talking about them.
Satisfy audience curiosity about what happens in the kitchen by publishing an occasional video to introduce your "back of the house" staff.
Publish a series of cooking lessons featuring your sous chef. This demonstrates the level of skill involved in cooking your food and, let's face it, we all love watching a great chef at work. These should be short and engaging.
An aside: You may be thinking, "Yes, but won't people take my idea and cook at home instead of coming in?" The answer? Maybe so! And if they do, you should encourage them to share their results with you by sending pictures and videos, so you can repurpose the content for your own page. More than likely, people will not "steal" your recipe and cook your dish at home. Most often, people are just interested in seeing "how it's done."
Show off your qualities
Your Facebook audience finds value in the experiences you provide, so consider featuring these (if they apply) in your Facebook ads. Ideas?
Here you go:
Live music: Tell the community about bands that will be performing at your restaurant.
Scenic atmosphere: Got a great view of the ocean or downtown? Share some photos of it.
Function room: Do you have a place for people to host birthday parties, company outings, and the like? Show it off!
Extras: Highlight anything that truly differentiates you from your competition. Do you have a massive video screen for football games? Do you serve ice cream to kids in little plastic baseball hats (yup, I'm channeling The Ground Round for those of you who remember it). How about this!? Do you have a mechanical bull? Advertise it!
Talk about things nobody would THINK to promote. Recently, I took my family to a new barbecue-style restaurant in a local beach town. My kids had just gotten out of the water and had sand all over them, and they both needed diaper changes. To my delight, the restaurant had pristine bathrooms with ultra-clean baby changing stations. It may not seem like a big deal to some folks, but it sure was to me! My comment to the owner was, "Now that I know you have clean baby changing stations and clean, roomy bathrooms, I will probably never go to another restaurant on this beach." I'm sure other parents would echo this sentiment.
You might be wondering, "How do I promote baby changing stations on Facebook? That seems weird!" Well, actually, you don't! Instead, let other people do it for you and promote their review. Here's the review I wrote for the restaurant I mentioned:

What they could do is promote/share my review and respond to my baby changing station comment. It was a big deal to me, and will be to other parents, as well. They could say something like this:
"Thanks for your feedback, Brad, we're glad you enjoyed it your experience, and nice to hear your toddler did too 🙂 What you said about the baby changing stations… not weird at all. We're parents too, and know what a hassle it can be to try and change diapers on a dirty floor… we've been there! So we are working to create an exceptional experience for all our guests, including those who have little children. Glad it's working! 🙂 Hope to see you back soon!"
Facebook is an amazing place to talk about your restaurant and get your community familiar with your food, your people, and your features. Need help getting your campaign off the ground, or just have some basic questions? Contact us and let's talk about it.
Grab our free guide to learn the top ways to grow your business online this year