REPORTING
LET US BE YOUR TRUSTED RESOURCE FOR ALL THINGS DIGITAL MARKETING
Feel Free to Contact Us Here
Fill out the form below. One of our representatives will get in touch with you soon.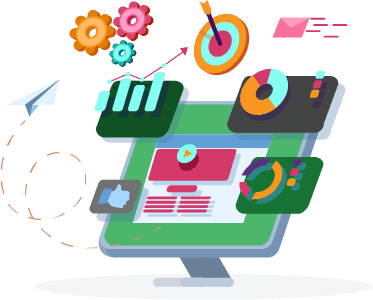 Data Visualization & Reporting
Track your target business KPIs through customized reporting and data visualization. When you work with us, you'll receive reporting and performance analysis through a customized dashboard. No matter your industry, customers, or marketing tactics, we can help you understand the impact of your marketing efforts, and how to make meaningful improvements.
The data you need, when you need it.
With a clean data structure in place, business intelligence insights can be applied to your marketing efforts. Sales attribution to marketing efforts, ROI for your marketing budget, and so much more—you can gain a deep understanding of your marketing tactics, and lead nurturing strategy. Our team provides advanced reporting and data visualization to help validate the benefits of your marketing initiatives.
Have questions? Let's get a conversation going! Schedule a time to Zoom with us about our enterprise-level reporting dashboards, or call us now.
Feel Free to Contact Us Here
Fill out the form below. One of our representatives will get in touch with you soon.
Building the right data structure.
While charts and visualizations might seem straightforward, they first require accurate data, and, more importantly, the right structured data in an environment. Only then can visualizations be applied.
At SC Digital, we specialize in building the right data environment for your business. Whether you're looking for single system performance or analysis across all marketing efforts and a prospect's entire lifecycle, we can develop an environment to discern meaning and prove results.
Visualizations and graphical data representation.
We use business intelligence software to import, clean, and visualize your data across a multitude of marketing technology systems. Whether you're interested in demographic lookalike audiences, campaign performance, or impression share among your competitors, we can leverage your data to provide analysis and meaningful reporting.
Types of advanced visualizations for reporting include:
Multi-variable charts
Forecasting and regression modeling
Real-time data
Geographic performance
Advanced filtering and data segmentation
Interactive reporting for active manipulation in a dashboard
See trends across all sources
Kind words from our beloved clients…