NH SEO
NH SEO Agency Offering Free SEO Audits For Business Websites

GET YOUR FREE LOCAL SEO REPORT
A complete overview of your Local SEO performance in minutes; including Search Rankings, Local Listings, Reviews, On-Site SEO & Social Media. Quickly discover how you can outrank your competitors and drive more traffic to your business!
Simply enter your Business Name and we'll do the rest!
If you're looking for ways to improve your website's search engine ranking and visibility you probably should hear about SEO.
Ensuring your website is visible on Google and easy to navigate will guarantee that your rankings will go up, but not only that. When you target the users searching for the keywords you set for them, you can be assured that you're receiving high value prospects for your business.
As a leading New Hampshire SEO company, we know we can make your business grow.
"So what is SEO, anyway? And why does everyone say I need it?"
SEO stands for Search Engine Optimization. It's the process designed to optimize a website's configuration and content. Its goal is to improve a site's visibility by boosting its appearance and position in the SERP (search engine results page).
Gather email addresses
Generate trials of a software
Create leads for a business
Generate product sales
Direct traffic to social media
Attract attendees for an event
Advertise a webinar or course
Promote a book or e-book
Gather email addresses
Generate trials of a software
Create leads for a business
Generate product sales
Direct traffic to social media
Attract attendees for an event
Advertise a webinar or course
Promote a book or e-book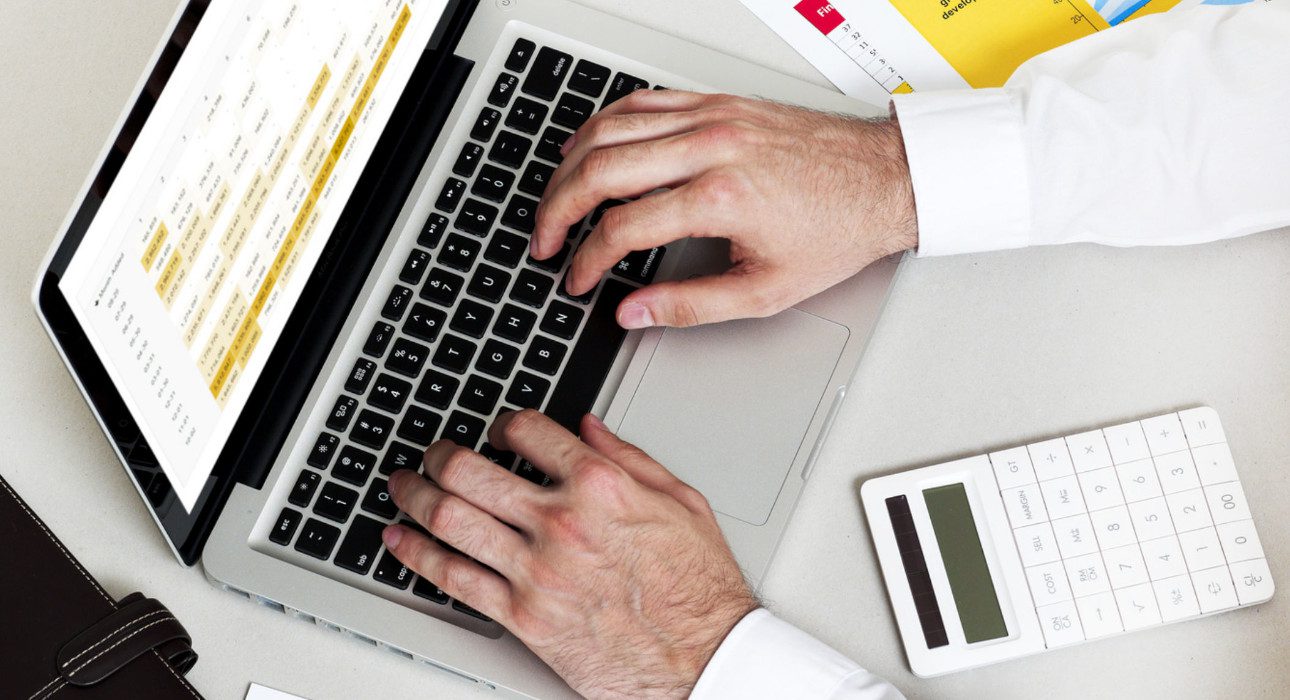 How does SEO work? And why do I need it?
Search engines have bots that crawl or navigate webpages going from link to link and gathering information. The content of these pages helps the bots understand what each page is about and how it's connected to other internal and external links. This information is stored in the index, a big internet library, and then analyzed by the algorithm.
Once the algorithm has the right information and starts the analysis process, it determines the order of pages that are going to appear after a Google search. This way, the user gets exactly what they need. And those websites that are better optimized tend to get more views and interaction.
Search engines are super competitive, that's why you need a solid SEO strategy.
If you've ever found yourself saying, "I want to show up at the top of the search when people type "insert product or service," chances are you're not alone. For instance, if you're a personal injury lawyer in your city, and you want to show up at the top of a Google search when a potential client looks for a personal injury lawyer, then assume you share desire with every other personal injury lawyer in your city. And the more lawyers in your town, the more competition you have. So, ask yourself: "Why would Google show me to potential clients instead of the other people in my profession?" This is the essence of SEO, and why you should hire our NH SEO agency to handle it for you. We know how to methodically convince Google that your firm is the best one to show its users first, instead of all the others.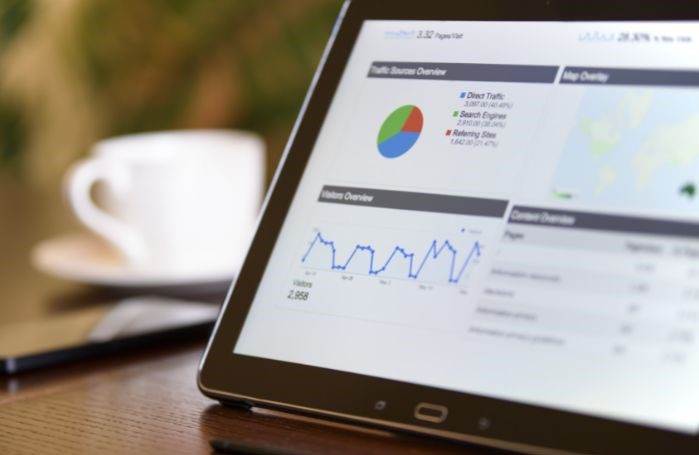 Google ranks businesses in order of relevance
When a search is performed in Google, in a split second, the system ranks search results based on relevance and quality, and that's how it determines who to show highly.
Consider this graph of one of our current NH SEO clients' search engine results: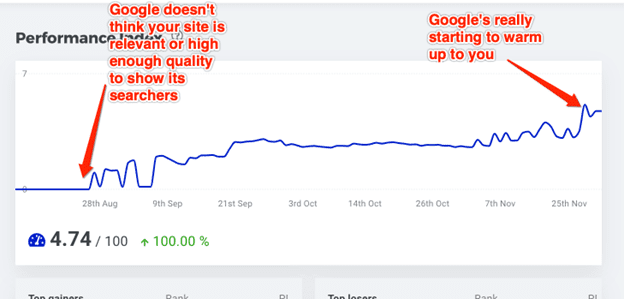 How does Google decide which websites to show on page 1?
This is the ultimate question. There are hundreds of factors that affect how Google ranks websites. Some of those factors include
On-page content: Every piece of content available on your website, that can be optimized, will make it more visible to the right people. This is not just about keywords, it's about images, titles, videos, and text your prospective clients might find useful.
Domain authority or page authority: This is a metric that goes from 0 to 100, and is an overall score depicting how authoritative a particular domain is.  You gain domain authority by

having a long duration in the search engines,
having a long history of valuable content,
offering engaging, sticky content to users,
having a robust and highly authoritative backlink profile.
Online reviews: Online reviews are the person-to-person recommendations of the digital era. They help you build trust and, when they are done correctly, they make your business more visible to the right people.  
Relevance of Google Business Profile: Google will prioritize your profile when the right information is available. Adding information, keywords, and engaging with users will help Google give your potential customers the right information. It helps build trust, engage with users, and adds visibility to your business.
User interaction (i.e. how well users interact with your content): Google wants to give valuable content to its users, and it takes interaction into account when deciding which webpage is relevant and valuable. Getting good interactions demonstrates the user is interested in what you have to offer. A good interaction can be having a lot of comments, but it's also generating page views, navigation through a webpage, click through rate, session duration, and more.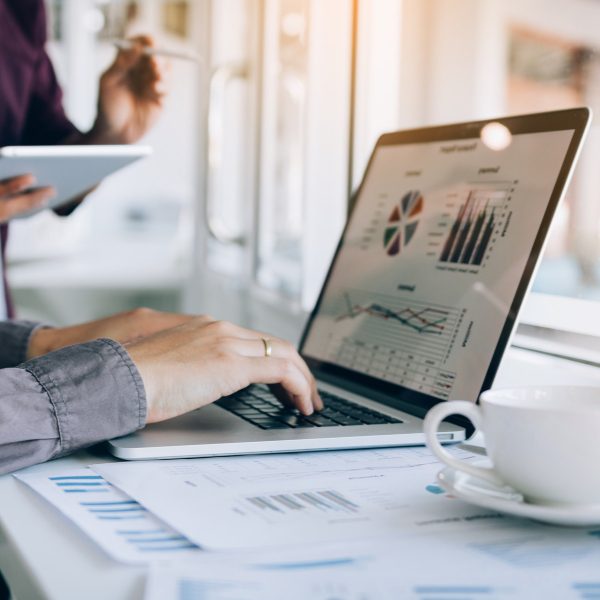 Page speed: Having a webpage that loads quickly will make customers happier and therefore increase engagement. As we know, Google likes it when content is relevant and values the user. This helps the ranking position on the search engine's results page
Why is SEO important?
For businesses in NH SEO is incredibly important for the same reasons it's important in other states: customers are using search engines before making a purchase.
Getting visitors to your website is important and will make your traffic statistics improve, but getting the right visitors is what will help your business grow and make a profit. This is achieved with SEO.
The first thing that you do when you want to buy something or hire a service is, probably, to Google it. Trillions of Google searches are conducted every year, making them the primary source of digital traffic. When these searches are optimized and personalized for each user and website, the results and rankings are more likely to transform into conversions.
Search engines know every piece of content and information available on Google and also know and understand every single person and what they might be looking for. They pick on words, phrases, and images to give users what they want and need.
When the optimization for a website is done right, said website is more likely to show up for people that are interested in what the business is offering
What's the difference between local SEO and organic SEO?
Organic SEO
Organic SEO is the natural process and strategy to make a website more friendly for the bots to navigate. Keywords, phrases, pictures, titles, and more are implemented for the algorithm to benefit the site and make it more visible to users.
In other words, your website can appear in a higher position on the results page after a Google search if you post the right content.
Local SEO
Local SEO is based on organic SEO, however, it's optimized for local searches. With this optimization, businesses get a strategy designed to target potential customers in their area. This way, whenever a user is looking for a business near them, they´ll get the best suggestions. Think about the last time you searched for a roofing provider. You probably searched for "Roofers near me" or something like that. The "near me" part of that search term would invoke the "Local SEO" algorithm and would use things like your Google Business Profile, online reviews, and more to determine the best results.
This strategy should always take the business' reputation into account. Users are more likely to engage with a webpage if they know it's trustworthy, and the best way to know that is through reviews. Getting the right reviews will typically put a website toward the top of the Map Pack, over time.
Local SEO not only helps businesses get more visibility, but it also helps them get more customers since the results are always shown to people highly interested and that can reach the product or service easily.
Become a master at managing your Google Business Profile
We published this helpful guide for optimizing your Google Business Profile, check it out here.
This FREE guide will give you the tools to understand Google Business so much better. Managing your profile, continuously updating it, and engaging with clients are excellent ways to optimize your search results.
How does the SC Digital SEO process work?
We want to see you grow and we want your website to get a lot of the right user views. To achieve this, the first thing that we need to do is to understand your business. Getting a deep dive into your goals and objectives is what is going to get us to draw the right path for you.
We could promise you a lot of website visits right away and we could make your website look pretty with just a lot of content, but the reality is that we need to understand your business and how it makes money and grows in order to design a sound SEO strategy. Once we do this we will be able to optimize your website for searches that serve your business and goals.
At this point, we already understand your business very well. Now we need to get to know your potential customers. To do this we do a lot of keyword research to find out and understand how people search for your products and services. And now it's time to start the SEO process. It is an ongoing process that includes things like:
Technical analysis to address any issues with your website that might make Google not want to show it to users.
Content optimization.
Local search optimization.
Backlink analysis and optimization.
We invite you to grab our full SEO checklist at this link.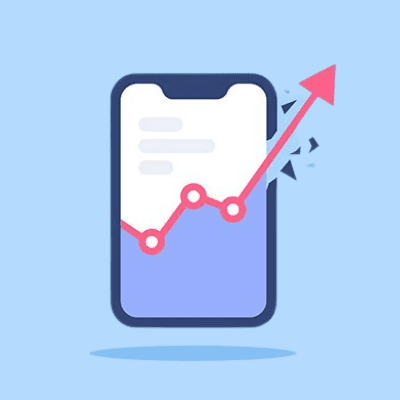 Take a look at our SEO Audit Checklist. We will use it to determine the key steps required to improve your ranking
"I've heard SEO is dead. Is that true? Is SEO as important now as it ever was? Or more?"
SEO continues to gain importance every day. Google is more and more filled and saturated with information as time passes by. For this reason, it's crucial for the algorithm to get updated in order to organize this information and continue to give users the results that they need.
This means that your website's SEO has to grow and evolve as fast as the algorithm changes in order to get results in the long term. 
If you're interested in learning more about the SEO strategies being implemented by many businesses, as well as some pitfalls and traps to avoid click the link below: 

"Is SEO more important for some businesses than others?"
Absolutely, yes. If your business has demand in the marketplace (i.e. if people are searching for your type of business in your community, however large that is) then SEO is definitely important. On the other hand, if your business has no demand currently because people don't know about the services you provide, SEO is still important but it might require a different approach. For instance, you might be better off creating educational content and distributing it on industry blogs, LinkedIn, press releases, and more.
"How long will it take to rank on Google?"
Short answer: It depends, probably a few months or even a year. The reality is that Google gives a higher ranking to the websites that have built trust and have proven their relevance.
The time Google will take to do this depends on how effective the optimization is, but also the competition since all websites will be compared with each other and Google wants to show the most relevant results. Other factors play important roles, like how popular the product or service is and how the algorithm is working at the moment.
When working on SEO, it's more important to think about the long term. Once Google trusts you and your business, continue to convince it that it's making the right choice and keep adapting to its rules.
If you've ever thought to yourself, "I want to show up high in Google for (insert product or service)," you're in luck and you've found the right NH SEO agency to make that happen.