Pest control digital marketing 
JD & Sons Tick & Mosquito Success Story
JD & Son's Tick and Mosquito Control is a family owned pest control company based in New Hampshire.  The company contracted with SC Digital to create a new pest control website for them, as well as improve their local SEO, and couldn't be happier with the results.
Increase In Website Traffic
Increase In Search Visibility
Increase in Inbound Leads
Background & Objectives
JD & Son's Tick and Mosquito Control approached us with the goal of improving their search engine ranking. Their one-page website was not ranking well for relevant keywords. After assessing their website, business model, and business goals, we agreed that the objectives for the project ought to be:
Improving the aesthetic and user experience of their website and thus making the website more engaging
Improving site architecture and navigation
Make it easier for users to get the information they need and carry out tasks directly from the website such as contacting the business directly
Increase their conversion rates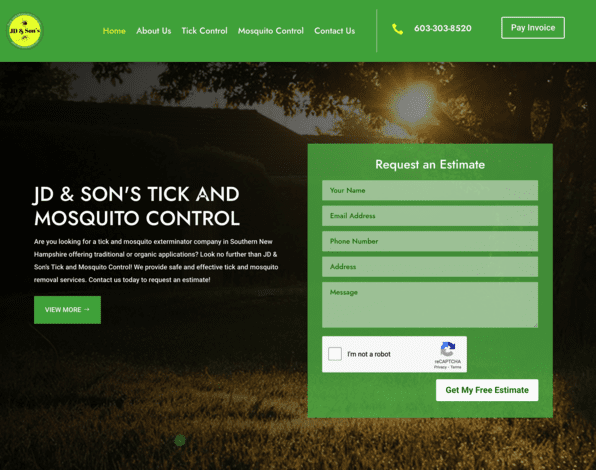 What we did
We decided that a complete overhaul of their current website was necessary to achieve the above objectives. We built an entirely new state-of-the-art mobile responsive website with a clean, minimal, and professional design. All information about the business is presented on the homepage with links to service pages for more detailed information. Visitors can easily navigate the website to get the information they need.
We also made it much easier for visitors to contact the company. The home page includes an easy to fill form that visitors can use to get a quote for services from the business. We also included a call button on the home page. Because the website is responsive, visitors can view it easily on mobile and click the 'call' button to call the business directly. They can otherwise copy the business' contact information to call them later for more information. In addition, the 'Pay Invoice' button redirects customers to a secure page where they can make payments for services they have received. All these features make the business more accessible to potential, current, and past customers.
We developed content for the website with the goal of positioning JD and Sons as a pest control authority in Southern New Hampshire. We placed particular emphasis on tick and mosquito control to show their expertise. We also included the specific areas they provide services in to improve their rankings for local search.
"Brad and his crew are great. While designing our new website both Brad and Claire were very communicative and worked with us to really incorporate everything as it pertains to our industry. We are in a very competitive market for tick and mosquito. So far everything has been great having SC Digital in charge of seo marketing. Cant wait to see where this goes from here."
The Results
JD and Son's Tick and Mosquito Control experienced a dramatic improvement in their search engine ranking after the website went live.
They now have first page ranking for many relevant terms that they previously had no or low ranking for. Their visibility has increased dramatically as a result.
Their website now attracts dozens of visitors every day, representing a 500% increase from the 1 or 2 users their old one-page website attracted per day. Their conversion rates have also increased dramatically since their new website went live. The business has also completed a total of 28 goals which include form submissions and phone calls.